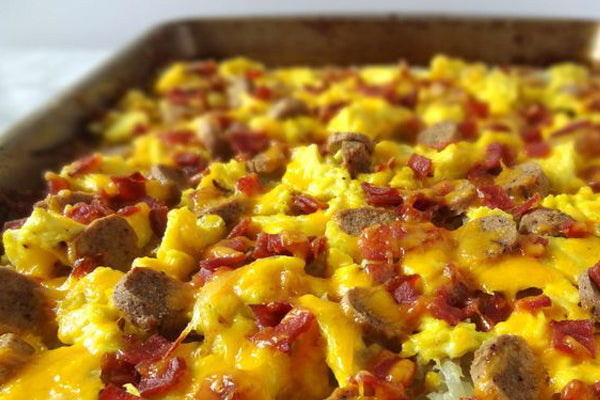 RedBeards No.8 JALAPEÑO SAUCE BREAKFAST PIZZA 1 Can Refrigerated Pizza Dough 12 Eggs Pre-cooked Bacon or Sausage 3 Cups Shredded Mexican Blend Cheese Green Onion Thinly Chopped Olive Oil RedBeards No.8 Dry Rub Shallow Baking Pan with Lip Preheat oven as instructed on the package of dough Spray baking pan with cooking spray Spread dough evenly on the pan and fold edges to make a crust Brush Olive oil onto the crust of the pizza dough Scramble eggs with RedBeards No.8 Dry Rub and spread over the dough evenly Scatter Pre-cooked  bacon or sausage over egg mixture Sprinkle cheese over the egg and...
---
RedBeards No.8 SPICY JALAPEÑO MARGARITA 2 fl. oz. Silver Tequila 2 fl. oz. Grapefruit Juice 2 fl. oz. Lime Juice + Lime Wedge 2 Jalapeño Slices + More for Serving 1 fl. oz. Simple Syrup 1 tsp RedBeard No.8 Dry Rub 1 to 2 Cups of Ice Place Jalapeño slices in a shaker with RedBeards No. 8 Dry Rub and muddle Combine Tequila, grapefruit juice, lime juice, simple syrup and ice in the shaker Give it a good shake Rub the lime wedge around the rim of a (chilled) rocks or wine glass then press the same glass rim on  a...
---
Real corn tortillas were created to carry RedBeards No. 8 seasoned ground beef.  Stay far away from those lazy "taco seasoning" packets and punch of the flavors with RedBeards Habanero Hot Sauce and our No. 8 rub.  These quick on the go Gringo Tacos are a perfectly tasty snack or dinner option. Estimated cook time 30 min. Ingredients: (vary according to personal taste/heat) 1 pound lean ground beef 1 dozen Mission Yellow Corn Tortillas Shredded Cheddar Cheese (about 1 cup) Shredded Iceberg Lettuce (about 1 cup) Tomatoes Cubed (about 1/2 cup) Avocados Cubed (2 large avocados should do the trick) Red Beards...
Recent articles
Categories