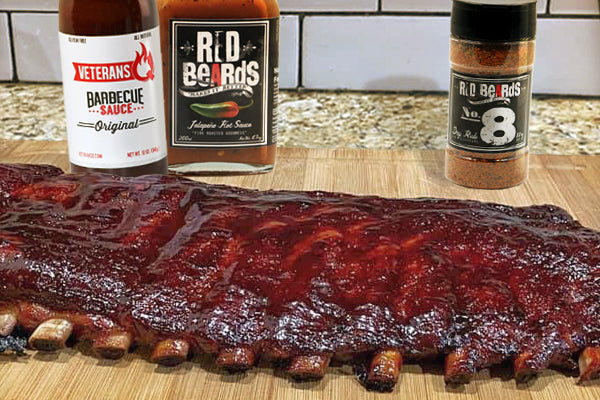 This is a simple way to get the most out of your baby back ribs on a spoon purchase…on a grill!
If you have met us at the OC Fair, or any other festival or show, you most likely have had us build you our famous "Baby Back Ribs on a Spoon" for you.
When we say… 3 parts Veterans Q BBQ Sauce, one part RedBeards Hot Sauce (of your choosing) and as you all know with BBQ, we season first and finish with quality sauces.
So here it is without the spoon for you to enjoy!
• Season the ribs with RedBeards #8 dry rub at least the night before preferably 24 hours before grilling.
• Fire up the grill, get it hot & create a cool zone to place the ribs.
• Note: if needed, cut the racks in half and stack the half racks so they baste in their own fat….rotate the stack every 10 minutes or so until they  thoroughly cooked and ready to baste.
• If you like a little char on your ribs flip them onto the heat for a quick char and shut off the grill…or if using charcoal or chunks move the ribs back to the cool zone.
• Determine how much Veterans Q bbq sauce you are going to need to baste these ribs…. pour that amount plus a little more into a one quart pan and drizzle in the RedBeards Hot Sauce until you get that balance of spicy and sweet…you can also add a little more of the #8 rub to give it a more savory flavor too.
• Now that the grill is off…Baste the ribs generously and close the lid…walk away for at least 5-7 minutes…let the sauce work its magic and make a beautiful glaze on these ribs….save some sauce for dipping…because who doesn't like to dip their ribs in More Sauce before eating them????
This will work for chicken and pork also
With a pork tenderloin…use the saved portion to pour over the sliced tenderloin before serving.
Enjoy! & Thank You from all of us at RedBeards and the Veterans Q Crew for supporting our Veterans.