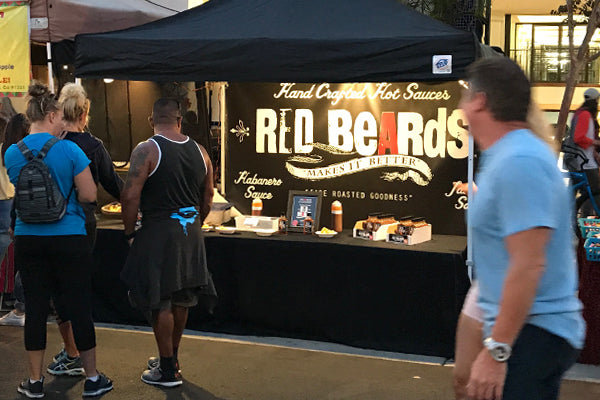 We are BBQ and Smoking Fanatics…our neighbors are always asking
"What are you making that smells so good?!"
Nothing tastes as good as something cooked over an open flame. So I asked myself, "Why not Jalapeño and Habanero peppers?"
So we did just that and the result was RedBeards Fire Roasted Hot Sauces.
Layers and Layers of flavor with that kick you'd expect and want from a quality hot sauce. A hot sauce that good and flavorful shouldn't be enjoyed by just me and my neighbors, but should sit on the table of every restaurant.
Working to bring our sauces to the hungry masses we became partners in a wing restaurant and on more than one occasion a party of four went through one or more bottles of RedBeards in one sitting. It became an epidemic as another group of patrons ordered a large pizza and 50 wings wiping out two bottles in one sitting! We had done it! We had created an addictive condiment that makes you want to add more and more.
Then the questions started… "Where can we BUY this sauce?" Back to the drawing board. We wanted to stand out from other hot sauces by not only making a better tasting sauce, but the bottle had to be unique as well. Our glass flask was the answer. No chintzy plastic bottle will do. The larger, flatter flask shows the fire roasted bits of charred pepper throughout the bottle. The charred pepper skins call you to crack it open and taste it right then and there.
We've moved on from our patnership in the wings restaurant and focused our energies on producing the highest quality hot sauce for your home and local restaurant. The future of RedBeards is looking bright as we move forward to bring RedBeards into local restaurants, where you will find it table side or in the recipes they serve.
Come down every Tuesday night to the Hungtington Beach Street Fair on Main Street and taste for yourself how savory and flavorful our RedBeards Hot Sauce is.  One you savor the flavor we are sure a bottle will be going home with you!
Every batch of RedBeards Hot Sauce is made with you in mind. . . 'cause we know you are looking for the Fire Roasted Goodness with Flavor and Heat that only RedBeards can deliver.
Enjoy!
Carolyn and Sean